When I suggested to my hubby I might try making him a shirt he seemed keen, so I went looking at
men's shirt patterns on Pattern Review
. I found a few worth trying, so am undertaking a trial of patterns until we find the one he likes best - his shirt TNT if you will.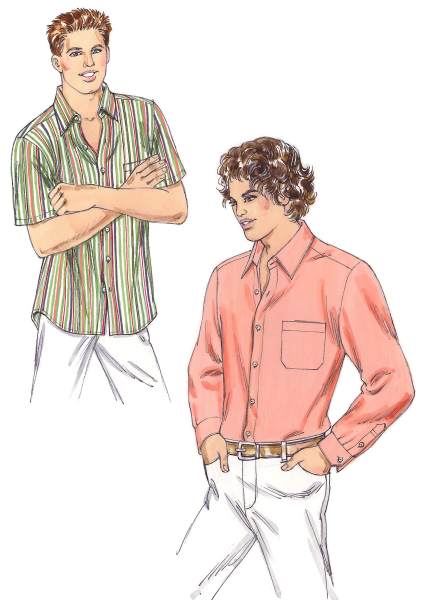 This pattern offers the option of a one piece or two piece collar, and short or long sleeves. As the initial trial was about the fit, I opted for the short sleeves, but chose the two piece collar.
I made it up in some mystery shirting I bought on TradeMe in bulk - I'm fairly sure it is a poly/cotton, heavy on the poly.
This sewed up fairly easily with good instructions, and hubby was reasonably pleased with the fit. It has been in his shirt rotation for a couple of months now, and is holding up well despite my only zigzagging the side seams.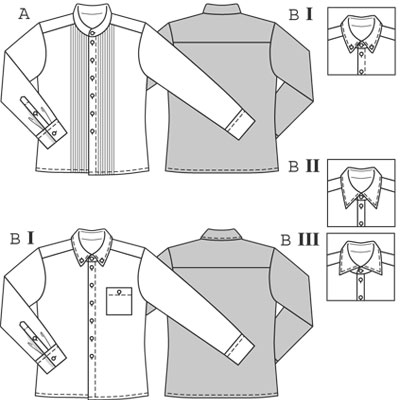 I made view B with the number III collar and omitted the pocket.
I made this up in a red cotton shirting with stripes. The fabric insisted on going off grain as I cut it, and frayed at the drop of a hat. NOT FUN!
Because of the fraying, and also because I had done some reading between the first and second shirt, I elected to french seam the side and sleeve seams. Somehow with the 5/8" seam allowances on this pattern, it all went terribly wrong when I came to sew it up with the seams not matching up and the sleeve involuntarily taken in, in an attempt to get the seams to match. Apparently it wasn't my best idea as the side seam now ends in the armpit !
Looks alright on the hanger though!
It was a good opportunity to practice my sleeve plackets though, and they turned out quite well.
Despite the fit issues, this shirt does get worn occasionally. I'm not quite ready to write this pattern off yet, as the fit issues were of my own making rather than the pattern.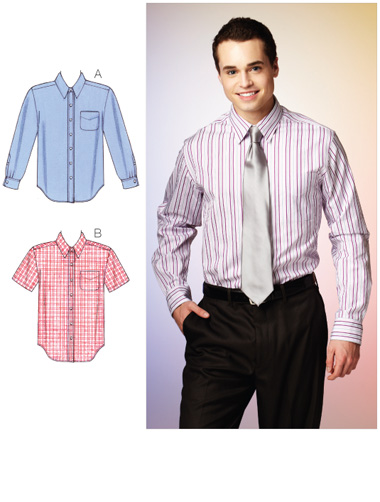 This pattern has options for short or long sleeves, and has a separate button placket. I went for the short sleeves and omitted the pocket.
Hubby had requested I make his shirts 'more interesting', and made the suggestion that he liked some shirts he had seen with contrasting collar, cuffs and button placket. Thus, this pattern was added to the trial.
I perhaps took him a bit too literally when he suggested I make it more interesting - I used a printed cotton poplin, with a yellow cotton lawn contrast. I used the contrast for the button placket, collar stand, under collar and inner yoke.
T. photo bombing!
This pattern had excellent, straightforward instructions and went together with no problems. I again french seamed the sleeve and side seams, and this worked much better with the included 1/4" seams.
My only head slap moment was when I went to add the button holes to finish it, and realised I had sewn the two fronts in reverse, so the buttons and buttonholes are on the wrong sides! Whoops!
Hubby likes the fit on this one, though next time I will take some length off it, as it is alright tucked in, but a bit long to leave untucked.